The Energy Information Administration (EIA) recently predicted that natural gas heating for homes will cost 13% more this winter than last winter. The average price over the winter this year will be about $679 for a household, which is actually still lower than the previous five year average cost. The increase in demand this winter and resultant small increase in natural gas prices may help sustain natural gas production.
Another key component in sustaining natural gas production is innovation. Even with lower prices, innovation can continue to drive the natural gas boom in the United States. This was the topic for discussion at the Decision Strategies Oilfield Breakfast Forum, which occurred in October 2013 in Houston, Texas. Steven Mueller, president and CEO of Southwestern Energy, said the industry is still in its early stages of learning, specifically on unconventional plays. He noted that in these unconventional plays, the U.S. "has a national treasure with long-term, low-price implications." He also noted that, while it is a learning process, gas projects are the largest they've been in a century and are more efficient than ever. Gas industry strategies themselves are helping push gas prices down, and also make the price of gas less volatile.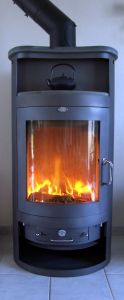 James W. Wicklund, managing director of energy research, at Credit Suisse LLC, said: "We are not only awash in gas; we are awash in cheap gas." Another speaker at the Houston Forum, Matt Fox, an executive vice president at ConocoPhillips, discussed his company's strategy for innovation, saying "(p)ick a core strategy, carry contingent elements for strategic flexibility, and monitor scenario signposts." The CEO of Huisman Equipment, Joop Roodenburg, also highlighted the importance of collaboration to overcome a divergence in priorities among various players, like offshore drillers, drilling contractors, and suppliers. The divergence, in his mind, suppressed innovation.
The same day as the Forum in Texas, at the Woodrow Wilson International Center for Scholars in Washington, DC, an important publication was announced, the second and updated edition of "Energy and Security: Strategies for a World in Transition". The discussion at the Wilson Center event focused on how most people do not realize that America's current abundance of oil and gas has greatly changed America's foreign policy options in the space of only five years. One of the editors of the latest edition, Jan H. Kalicki, a counselor for international strategy at Chevron Corporation, noted that: "It's time to connect the dots between energy and international security. We have enormous negotiating power now." The book's other editor, David L. Goldwyn, president of Goldwyn Global Strategies, stated that "(w)e're freer now to speak out on behalf of democracy and freedom because we're not dependent on oil imports from countries where those practices are suppressed."
Both of these events reflect a healthy energy picture for the United States. We are working on innovation and new technologies to make our resources even more productive and efficient. Increased demand for natural gas this winter will increase prices a bit and help fund some of those innovations, which will increase our production. The picture for this winter has been bright.
See Our Related Blog Posts:
Oil & Gas Company Expanding in Texas