Kinder Morgan, based in Houston, Texas, is in the process of obtaining commitments from oil and gas companies who want to use its Utica Marcellus Texas Pipeline ("UMTP") project. This pipeline will transport natural gas and mixed natural gas liquids produced from the Utica and Marcellus shale areas to delivery points along the Texas Gulf Coast. In February 2015, Kinder Morgan filed for abandonment of a Tennessee Gas Pipeline pipeline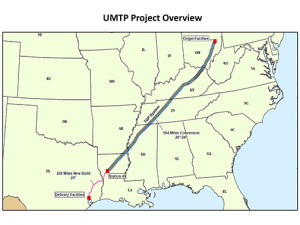 with the Federal Energy Regulation Commission ("FERC").
As part of this pipeline project,  964 miles of natural gas pipeline in the  Tennessee Gas Pipeline will be abandoned and converted and approximately 200 miles of new pipeline from Louisiana to Texas will be constructed. The new pipeline is expected to be completed by the 4th quarter of 2018. The new pipeline will have a maximum design capacity of 430,000 barrels per day.
It appears from the Kinder Morgan maps that this new pipeline will travel through Newton, Polk, Liberty and possibly Chambers Counties in Texas. Landowners in these counties should be aware that the may be getting an easement request from landmen for Kinder Morgan, and when they do, they should contact my office. To make sure you get the best easement terms and compensation, you really need an experienced Texas oil and gas pipeline attorney representing you.