Those who follow the oil and gas industry, especially in Texas, are always interested in indicators of the health of the industry. One recent news story that caught my eye on this front was Chevron's announcement of construction of a 50-story new office at 1600 Louisiana Street in downtown Houston, Texas, calling the city the "epicenter" of the global energy business. This is great news for the industry, the city, and the state of Texas, and it shows that Chevron is committed to continued growth and investment in our state.
The new skyscraper, set to be one of the tallest buildings in the city, will be 1.7 million square feet of office space and will be designed by the architecture firm HOK. When combined with Chevron's current buildings at 1500 Louisiana Street and 1400 Smith Street, there will be a Chevron campus, including indoor and outdoor areas, a fitness center, and extra parking. The Texas Enterprise Fund has said it will supply $12 million towards the project. Chevron anticipates being able to move into the newly constructed building in 2016 and it is expected to have office space for as many as 4,200 workers.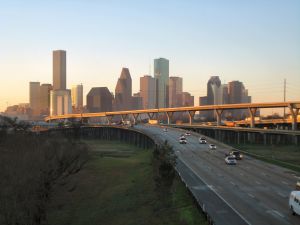 Despite these new plans and greatly expanded office space, Chevron says that the company will not move its headquarters to Houston, but will keep it in San Ramon, California where it has been for 130 years. However, in April, 2013 Chevron eliminated about 11% of jobs at the San Ramon location, (about 400 jobs), as it relocates more of its offices to Houston. Nine of the businesses that Chevron owns have their headquarters in Houston and overall the company employs an estimated 9,000 people in the Houston area. Bereket Haregot, president of Chevron's business and real estate services group, said, "The announcement of our new office building underscores Chevron's long-term commitment to Houston and Texas. The Lone Star State and its largest city play a vital and growing role in Chevron's global business."
The expansion of office space will increase the already considerable total of Chevron employees by 1,752 workers. The Greater Houston Partnership issued a news release saying this new construction and expansion will create an additional 2,164 jobs indirectly in the Houston area, as well.
Texas Governor Rick Perry praised this new expansion in Houston by Chevron, saying it shows how Texas' model of a friendly climate for job creation, including low taxes, smart regulations, fair courts, and a skilled workforce, has been successful. Houston's Mayor Annise Parker also praised the move, saying, "Houston is supportive and very excited about Chevron's plans", and noted that Chevron has been active in the Houston community for many years, including sponsoring the annual Houston Marathon. As someone who has worked as an oil and gas attorney for many years in Texas, this new investment and the resultant new jobs in Houston are signs that the Texas energy industry shows every sign of being healthy and growing for the foreseeable future.
See Our Related Blog Posts:
Oil and Gas Activity in the Texas Barnett Shale