Sanchez Energy Corporation, a fast growing independent oil and gas company based in Houston, Texas, announced recently that it will accelerate its 2012-2013 drilling in the Eagle Ford shale play. This shale play covers 11 million acres from the Mexican border in South Texas to East Texas near Louisiana and covers 1/16th of the state of Texas. It has a unique geologic composition that allows for more production of oil and gas than other shale areas, and it is an excellent candidate for the use of hydraulic fracturing, or fracing.
Sanchez has a 95,000 net acre position in Eagle Ford, and the corporation is gathering cash from proceeds from a recent private placement of preferred stock, using the $144.6 million in proceeds to fund capital expenditures. Those expenditures focus on accelerating the drilling program across all Eagle Ford operating areas. Tony Sanchez, III, President and CEO of Sanchez, said, "Our recently closed $150 million convertible preferred offering, combined with our future cash flow from operations and modest debt from our anticipated credit facilities, provides the liquidity to continue executing and accelerating our drilling plans in 2012 and 2013." In addition, the company will close shortly both a $250 million first lien revolving credit line, with an initial borrowing base of $27.5 million, and a second lien loan also of $250 million, with an initial commitment of $50 million, to provide more cash for the Sanchez expansion of operations.
With the money it has raised, Sanchez can grow and expand-the company has already identified 800-1200 potential drilling locations. Production has grown more than 90 percent just since the end of June, 2012, with 2300 barrels per day of oil equivalent being pumped by the end of August, 2012. The company sees a rate of 4000 to 5000 barrels of oil equivalent per day by the end of 2012, due to the more developmental-type drilling planned.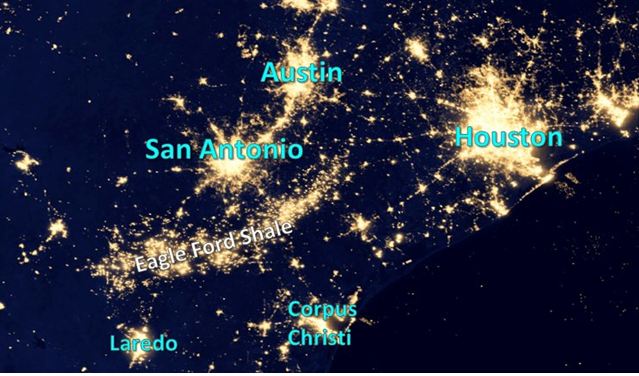 As the NASA photo above shows, the Eagle Ford is a big deal. The increased drilling by Sanchez and others will benefit numerous areas of the Eagle Ford in Texas, and will be a growth engine for our economy and our growing oil and gas industry in Texas. In the Palmetto area of Gonzalez County, Sanchez plans to start as many as 12 gross and six net wells by the end of the year, up from an initial plan of nine gross and 4.5 net wells. In the Marquis area of Fayette and Lavaca Counties, the company had initial expectations to drill six gross and net horizontal wells this year, but it now plans for nine gross and net horizontal wells. In the same area, a rig is expected to drill continuously in Prost, where Sanchez estimates as many as 32 more development locations are possible after 3D seismic is shot and interpreted early next year. Also in 2013, central production and gas gathering lines are going to be laid in this area. In the Maverick area of Zavala and Frio Counties, the company will drill horizontal wells continuously through 2013 and has identified 235 to 350 potential drilling locations with 60 to 90 million barrels of oil equivalent potential.
In tough economic times, news like this shows that Texans should be excited and hopeful for the future thanks to the incredibly rich resources our state is lucky to possess.
See Our Related Blog Posts:
Obama's Task Force Agrees: Shale Drilling is Safe