It seems there is an ongoing supply of positive developments in the natural gas field in Texas that are poised to make our country more energy independent. Currently, almost all the fuel used to power hydraulic fracturing is diesel. Hydraulic fracturing is credited with much of the recent dramatic increases in Texas and US oil and gas production, but the industry required more than 700 gallons of diesel last year for this purpose at a cost of about $2.38 billion. If they could use natural gas, it would save the industry up to 70% and would allow the US to import 17 million fewer barrels of oil each year. There is a viable process in the works to make that possible.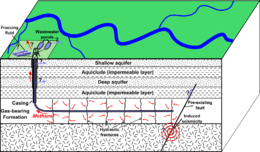 Apache Corporation, with headquarters in Houston, Texas but that operates internationally, decided this was worth pursuing. Mike Bahorich, the vice president of technology, reached out to Halliburton and Schlumberger. Both companies told Mr. Bahorich that using natural gas to power hydraulic fracing was possible, but has not been due to the complexity of both the natural gas supply and the infrastructure. Both companies also told Apache that they would do a trial for Apache without cost.
So far, Halliburton is testing with liquefied natural gas. Its new system would build a simple gas line to the necessary engines by using a quick-connect jumper and would also allow for moving the line easily from job site to job site. Schlumberger is testing with compressed natural gas.
One of the biggest challenges is changing the engines that power the fracing, which are currently built to run on diesel. Diesel engines are designed differently than engines powered by natural gas. The companies got Caterpillar Inc. to create an engine that can run on both diesel and natural gas. The new engines are designed to run on diesel when the machine is idling and natural gas when it is running the pump. A senior Apache engineer, Brian Erikcson, said this new dual fuel engine has been critical to moving forward to develop a process to replace diesel with natural gas in the field.
The project has been going well. The three companies tested eight of the new engines at the Granite Wash in Oklahoma with success, and in December they tried with 12 engines near Elk City. The participants expect this new engine to save the companies tens of thousands of dollars in fuel costs. This has the possibility to be yet another significant advance, making hydraulic fracing both profitable and energy efficient.
Mr. Bahorich has been quoted as saying that "(t)his is a real trend and it's happening now. We're witnessing a sea change in the industry that will have a great impact not only on how much less oil is imported but also will help keep our air clean."
Since natural gas is a much cleaner burning fuel than diesel, a change to natural gas would have environmental, as well as economic benefits.
See Our Related Blog Posts:
Sanchez to Accelerate Oil & Gas Drilling in Eagle Ford Shale, Texas
Apache Corporation Exploring the Texas Panhandle for Future Oil and Gas Projects