Recently, NuStar Energy LP announced that they are proposing a new system of oil pipelines to bring oil from the Niobrara Shale in Colorado to Texas's oil refineries. The Niobrara Shale is a promising play and there is a need to get the oil produced there to refineries that can process the increasing amount of oil. Colorado is set to produce between 42 and 44 million barrels of oil this year, in a growing industry for the state. NuStar is calling this new pipeline project the "Niobrara Falls Project."
The new pipeline would extend from Niobrara, which is near Platteville and Watkins, to an already existing pipeline in Denver. From there the oil would be transported via Denver to a McKee, Texas pipeline, which has a capacity of about 70,000 to 75,000 barrels per day. From McKee, the project would utilize other existing pipelines to get the oil to refineries in Wichita Falls, Texas. NuStar states that once the oil gets to Wichita Falls, it can be sent to the Nederland-Beaumont, Texas market and the Cushing hub via other third-party pipeline connections in Wichita Falls. This pipeline could also supply refineries such as Suncor Energy's Denver refinery, Valero Energy's McKee, Texas refinery, Ardmore, Oklahoma refineries, and WRB's Bolger, Texas refinery. The new pipeline system could also transport oil from Granite Wash and Permian basin to Dixon, Texas, where NuStar has a tank farm.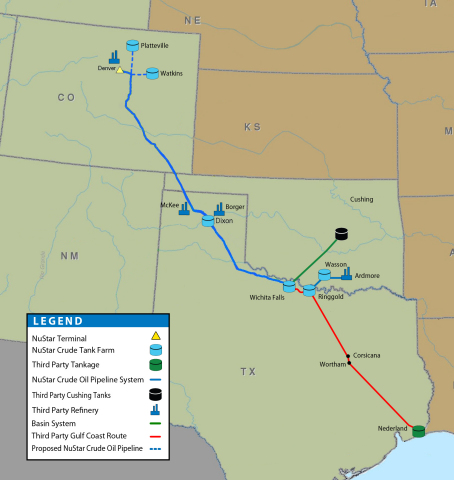 To find out what kind of interest exists for this new pipeline project, NuStar held a binding open season the end of last year. A binding open season allows companies to make a long-term commitment to use the pipeline. Commitment terms of five, seven, or ten years are available for this project.
NuStar, based in San Antonio, is one of the chief US pipeline operators. The company currently has 8,433 miles of pipeline, 82 terminal and storage facilities that store and distribute crude oil, refined products, and specialty liquids, and a fuel refinery with a capacity of 14, 500 barrels per day. NuStar expects to have the Wichita Falls pipeline section available for shipping by the second quarter of 2013 and is hoping to have the entire Niobrara Falls Project up and running by the first quarter of 2014.
New pipelines are a symptom of success. Oil produced from wells needs to get to refineries and then to market. They are indicative of economic growth and prosperity for our states, like Texas and Colorado. These pipelines will also affect individuals, specifically, those who own land in the way of the prospective pipelines. If you are one of those individuals in Texas, please review my recent post on the subject (read it here) about why you may need a qualified and experienced pipeline easement attorney!
See Our Related Blog Posts:
Why You Should Have a Texas Pipeline Attorney Review That Pipeline Easement
New Federal Pipeline Safety Legislation Applies to Texas Gas Pipelines