In what may be unsettling news for Houston, Devon Energy Corporation is closing its Houston, Texas office and shifting operations to Oklahoma City, where it has its corporate headquarters. The Houston office has been in charge of operations in Texas, Louisiana, Ohio and Michigan.
There were an estimated 500 employees working at the Houston office. Some of those employees will be transferred to Oklahoma City, the rest will be offered severance packages. The process of layoffs and transfers is expected to be completed and the newly consolidated operations up and running by the end of the first quarter of 2013. According to paperwork filed with the Texas Workforce Commission, Devon planned to cut 53 positions the first two weeks of January 2013 and then continue layoffs through the end of March, 2013.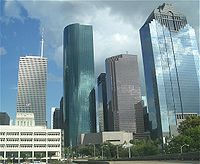 Devon stated it expects this move to save $80 million per year from administrative and personnel expenses. Conversely, the cost of the restructuring and reorganization will cost Devon $125 million. The company has had some problems recently, as Devon posted a net loss of $179 million in the quarter that ended on September 30, 2012. Most of that loss was due to $1.1 billion non-cash impairment charge. Devon indicated that this move will allow it to be more flexible and to quickly move its workforce to wherever it is most needed at any given time. Devon officials also expect the consolidation to increase efficiency by promoting increased sharing of best practices within the home office.
The closing of the Houston office will free up 560,000 square feet of office space in the Allen Center complex in downtown Houston. Tim Relyea, a vice chairman at a Houston brokerage firm, said, "It's like dropping a major 500,000-square-foot building in downtown that wasn't there last week. Companies that were close to making a decision on a location to move have more options now. It may help downtown and it may attract someone who is in the suburbs now." So this move by Devon could bring new and up and coming companies into the downtown Houston area.
We will have to wait and see how the Devon move affects Houston and the Texas oil and gas industry in the long run. Devon continues to operate profitable wells in Texas. Devon's oil production has been 143,000 barrels per day, which is a 14 percent increase over last year. Devon's president and CEO, John Richels, stated, "Devon's capital program has delivered strong results this year with aggressive drilling programs in oil-focused basins. As we have pursued higher-returning oil projects, we also have de-emphasized natural gas drilling, limiting overall production growth. This is exactly the right tactical decision for Devon in this environment and is consistent with our longstanding strategy to optimize returns as opposed to top-line production growth." So Devon will continue to play a role in Texas's economy in the future.
See Our Related Blog Posts:
Updates on Crimson's Success in East Texas Oil & Gas Operations
Apache Corporation Exploring the Texas Panhandle for Future Oil and Gas Projects